F&M celebrates legacy in community with $110,000 total gift to Bell Tower Green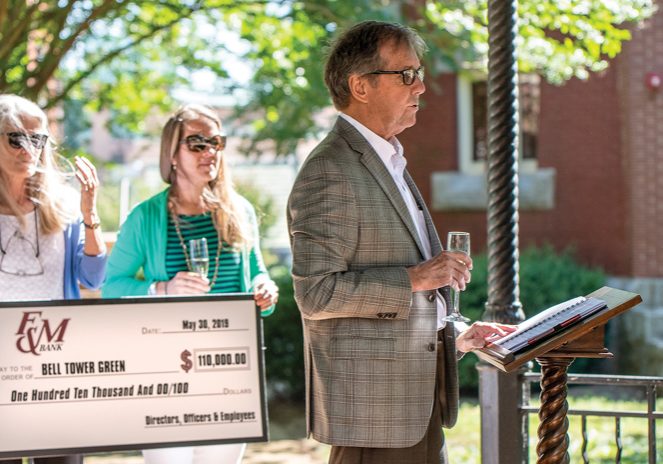 SALISBURY — It was 110 years ago when some community-minded folks in eastern Rowan County got together to establish a bank, hoping it would foster economic development and promote a higher quality of life.
Shares were sold that year, and the first Farmers and Merchants Bank — today's F&M Bank — opened in Granite Quarry.
Steve Fisher, chairman and chief executive officer of F&M, saw similarities Tuesday in that 1909 meeting and one held in the not-too-distant past when some "crazy people" met to talk about building a 3.5-acre park in downtown Salisbury.
That meeting has led to the vision for Bell Tower Green, which Fisher said will be a place to gather, socialize, enjoy nature, foster economic development and improve the quality of life.
To honor the people who have supported F&M Bank over its 110-year history, Fisher announced Tuesday — in the shadow of the Bell Tower — an additional $60,000 gift to the park project, bringing the bank's total contribution to $110,000.
That's $1,000 for every year the bank has been in business in Rowan County.
"The Bell Tower Green is an incredibly important revitalization effort for our county seat," Fisher said. "F&M Bank's contribution is the perfect way to commemorate (the) 110th anniversary.
"It is truly an honor to give back to the residents and businesses of the communities we have had the privilege to serve for the past 110 years."
A Salisbury trolley brought members of the F&M board of directors to the gazebo near the Bell Tower. Along with members of the Bell Tower Green board and F&M employees, they raised champagne glasses to toast the contribution, the bank's legacy and the park project overall.
Dyke Messinger, chairman of the Bell Tower Green Inc. directors and a former 22-year member of the F&M board, said F&M's total contribution is one of the largest gifts toward the park, whose construction is expected to begin later this summer.
By far, it's the largest contribution from a financial institution, Messinger said.
About $9.7 million has been raised for Bell Tower Green, with aims of raising about $2 million more for extra street improvements, according to Messinger.
"We're a long way down the road," he said.
Not counting the purchase price for the 3.5 acres, the total investment in the park project will be right at $10 million.
Paul Fisher, chairman emeritus of F&M and a Bell Tower Green board member, has been one of the chief fundraisers for the downtown park, and he was on hand Tuesday morning.
"Over my 59 years with F&M Bank, I have had the pleasure of helping individuals, families, nonprofit organizations and businesses turn their dreams and visions into reality," Paul Fisher said.
"The opportunity to participate in bringing the Bell Tower Green to life and further revitalizing our county is a dream come true for me."
Bell Tower Green is intended to provide a community gathering place and destination for out-of-town visitors. The Bell Tower and Wrenn House will be incorporated into the design, which will include a large commons or lawn, gardens, scores of new trees, sitting walls and other places to relax, a "quarry pavilion" with restrooms, a water wall, stage, and possibly brick streets or other kinds of pavers on three sides.
Bell Tower Green will be bounded by West Innes, South Church, West Fisher and South Jackson streets.
Steve Fisher said he hoped those in attendance Tuesday could return in 18 months to toast the opening of the park.
"Hopefully, sooner than 18 months," Messinger said.
Contact Mark Wineka at 704-797-4263.
This article was originally published at: