Historic Preservation Commission gives OK for Bell Tower roof lighting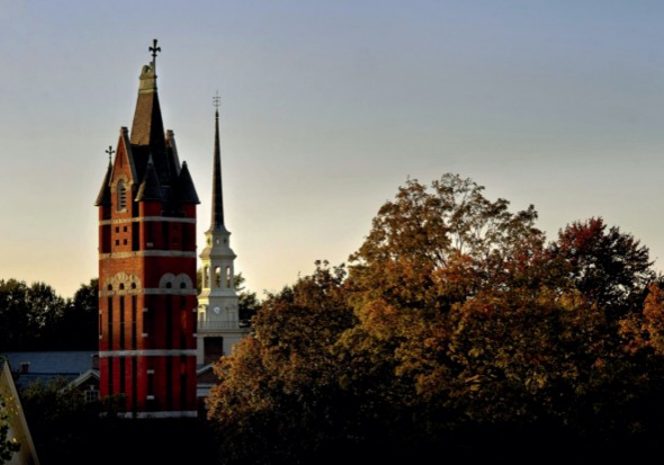 SALISBURY — The Historic Preservation Commission on Thursday approved the installation of light fixtures on the Bell Tower roof to highlight the building's architectural details as part of the Bell Tower Green project.
Allison Merriman of LandDesign, who is tasked with the design of the park, said the goal is to show off the top of the tower.
"We thought it would be nice to add some subtle, unobtrusive fixtures to the roof to highlight some of the architectural features and to provide a cap to the overall tower," she said.
Andrea Hartranft, a principal at Hartranft Lighting Design, spoke to the commission about the lights, which would be LED and have the ability to be colored or simply be white. She said designers would hide the light fixtures and celebrate the architecture.
Commission member Steve Cobb said he supported the application, especially if the lighting is hidden and not seen from the ground.
"I think it would be odd to have the tower itself lit and then fizzle out to not being able to see the spires at the top," Cobb said. "This kind of finishes the job."
Member Acey Worthy said he also was supportive because it would add to the architecture of the building.
"It's not a gaudy, flashing Coca-Cola sign on top of a building," Worthy said. "It's a subtle lighting that would accent the architectural structure of the building."
Jon Planovsky said he was initially concerned about the lighting, then recalled the first approval to add lighting to the Bell Tower.
"My original concern when the proposal first came was that I had forgotten that the commission had previously approved already lighting for the lower portion of this Bell Tower," Planovsky said. "We're not simply talking about lighting the peaks."
Elizabeth Trick said the whole park will be lit.
John Schaffer added his support to approval of the lighting and the park as a whole. He lives near the park.
"I think the Bell Tower and the Bell Tower Green are going to be great for the community, and I see nothing in the lighting proposed today that adversely affects any around us," Schaffer said.
He noted one of the design guidelines states "introduce lighting levels that provide adequate safety, yet do not distract form or overly emphasize the structure or the property."
"Unless we got some really low-flying planes or high-stepping people, usually you're not going to walk into a bell tower," he said. "I don't know if safety is relevant to that, but we do support the project."
Will James said he thought the lighting would be fabulous.
The board unanimously approved the lighting for the Bell Tower roof. Chairman Andrew Walker congratulated the applicant, saying he looks forward to the light show.

This article was originally published at: